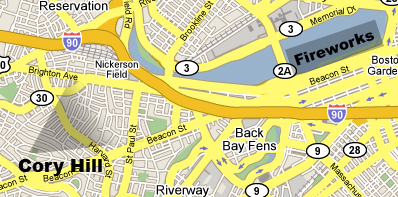 Keri and I just watched the Boston fireworks but not from where most people saw them. Instead we just walk up the hill our apartment is on, Corry hill. There is a small park at the top with a view that points north and we thought we might be able to see the fireworks from there.
We were not alone as 2 - 300 other people had the same idea. Police had the street block and clearly they knew this was a yearly thing. I wonder if the same people come every year though as there was on tree that was exactly in the way.
You could still see through the tree but it was amazing how many fireworks exploded in the center and expanded exactly to the edges of the tree.
I don't know how that trees survives from year to year because just about everyone wanted to cut the tree down.
Another interesting point was how there was no one selling any type of food at this small gathering. I know almost every hot dog and funnel cake vendor must be at the river but it was surprising that some one hadn't though to sell something there as they would have no competition. Was I not moving to Malden I might have brought a cooler of soda up and made a killing.
All and all it was one of the more unique experiences here in Boston.
fireworks, boston, coryhill, brookline, bostonfireworks